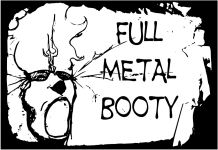 Full Metal Booty is an experimental noise project that started just after the turn of the Century. Initially inspired by the Nihilist Spasm Band, it has since developed its own voice and direction. Orignally nurtured in a space provided by Artspace, the local artist run center, FMB has played in various places, as far flung as the forests of Northern Ontario to the more urban centers of Toronto and Hamilton.
More recent info can be found on the FMB Facebook page.
FMB might best be described as a journey into collective sound exploration, but due to its non-hierarchical approach, any specific definition may be hard to nail down. As a project, FMB is participatory- those observing are encouraged to join in, by making noise themselves, through body movement, or in any way the spirit, and sound, moves them to.
A couple of more recent videos-
Full Metal Booty from Jordan Dunlop on Vimeo.
An old archive of stuff-
http://sketchbin.webmadman.net/fmb/
And some older pics...